Hello again!!
The page is under construction now, but closing to final form- excuse me, but until this notice is here don't try buy anything.
My page is slowly coming back. Considering many factors I decided to migrate to WordPress. I decided to make it in catalog/shop format. It turns out that shop templates offer best possibilities of bayonet presentation, filtering and searching. And that's the main reason for this page – presentation of some info and photos and reference. Sale option is just an add-on – every collector has some duplicates or wants to reprofile his collection. You can't store those things sometimes;) So only bayonets marked "in stock"  are for sale, rest is for reference, as in catalog. If one day I decide to sell my collection, I will just add prices and in stock attribute;)
My collection is growing still. And I learn bit by bit – not fast, I'm not the historian nor the antique dealer. I think some pieces here can be interesting even for advanced collectors. All the bayonets presented are from my private collection, though a few I'd sold. I still work hard – I'm sure there are many mistakes in the content – treat it with reserve and always let me know if any information is wrong – thanks!
Somehow my collections becomes surrounded by some peripherials  – other kinds of edged weapons and black podwer percussion weapons serving as stands for bayonets;)
I'm always ready to talk about bayonets. People who want to sell something – sure You can contact me and make offers. Forgive me I put the page online in such immature shape – thanks to that I get mobilized and it will reach the previous scope (of my previous page) faster.
I'm always ready to buy interesting bayonets – make offers!
email: bayonets@bayonets.pl
Recent blog posts:

Unknown bayonet, I presume German – other collector rather agree with me. Very well made, huge and heavy. Absolutely original. Not to be found in any book. The only stampings are regimentals on a crossguard, Read more…
0 comments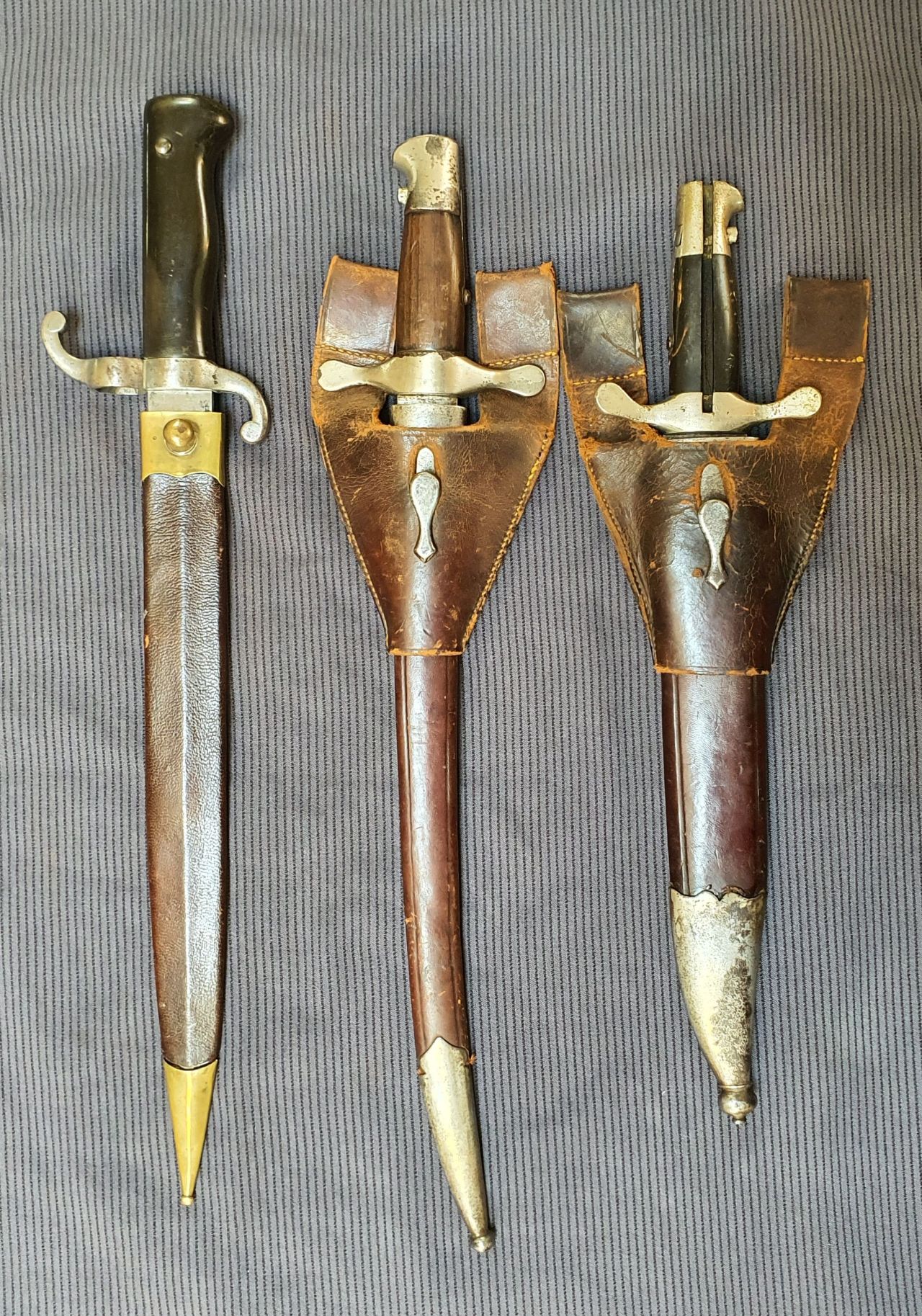 Suddenly I've aquired three nice hunting bayonets. They come France. They have no markings. If anyone has some more detailed info on them please let me know.
Being a complete amateur as far as web designing is concerned I still fight with WordPress and Woocommerce. I make backups often;) Now I'm almost satisfied. Most of my bayos are displayed and shortly described. Read more…
Recent additions:
Get in Touch
write to bayonets@bayonets.pl or use contact form on the right